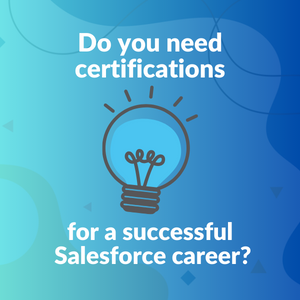 ​Are you a Salesforce professional looking to increase your knowledge and skill set? If so, you're probably wondering whether getting a Salesforce certification is the right thing to do. After all, there are so many questions to be answered when it comes to certifications.
What will I gain from having Salesforce certifications? How much do Salesforce courses cost? Will I get better opportunities in the future if I have a certification? In this blog post, we'll address these questions and cover the basics of what a Salesforce certification is and if having them could benefit your career.
​
​
What is a Salesforce Certification?
First off, let's start with what a Salesforce certification actually is. A Salesforce certification is a globally recognised credential that proves you have a satisfactory level of knowledge and experience with using the Salesforce platform. It shows potential employers that you understand how to use the platform and that you know how to create high-quality solutions with it.
The certifications are divided into different categories based on your experience level. For example, there are certifications for individuals who are just starting out as well as those who have been working in the field for several years. Each category offers different levels of recognition and expertise, so it's important to figure out which level is best suited for your needs before pursuing any certifications.
​
​
Why should I get certified?
Now that we know what a Salesforce certification is, should you consider getting certified?
There are many benefits associated with having certifications, including respect from peers in the Salesforce Ohana. Having a certification shows potential employers that you have taken the time and effort to learn more about the platform and prove your expertise. Additionally, having certifications may open new job opportunities as some companies only hire or promote individuals who have specific certifications or qualifications related to their job role.
​
In a recent interview with TechOhana CEO William Botterill, we got the inside scoop on the importance of balancing hands-on experience and certifications in the Salesforce industry.
According to William, while experience reigns supreme, having certifications under your belt can lead to unique opportunities within the field. So, if you're looking to take your Salesforce career to new heights, it's essential to find that perfect balance between the two.
'In the world of implementation partners, certifications are the key to success. Companies want to prove to their clients that their team members are experts in all aspects of the Salesforce platform, and obtaining certifications is the most effective way to demonstrate this' William explains,
'However, for end users of the platform, hands-on experience may be more valuable than certifications included on your CV. While certifications are often listed as desirable on job postings, experience will ultimately be what lands you an interview.
That being said, certifications and experience are both excellent ways to set yourself apart when applying for new career opportunities. Earning certifications showcases your passion for the Salesforce ecosystem, making you a valuable asset to both companies and the Ohana'.
​
Do I need certifications to have a successful career?
The short answer is no; not everyone needs certifications to succeed in their career. Experience using the platform is always going to be the most important thing to push your career forward, but they can certainly help especially if you're starting out on your Salesforce career, and you want to prove your knowledge of the platform.
If you already have plenty of experience working with Salesforce, then certifications are not necessary. If you want to expand your skill set and open up new opportunities, investing in getting certified can go a long way towards helping you achieve those goals!
​
Looking for Salesforce Professionals? Searching for a new opportunity in the industry? Find out more here:

​
| | |
| --- | --- |
| ​ | ​ |
​
Where can I find out about Salesforce certifications?
Your first stop should be on the Salesforce website; there's plenty of info on certifications, learning and the Salesforce community in the Trailhead section.
Being part of the Salesforce Ohana isn't everyone's cup of tea. Still, we'd recommend looking at what's going on there as it's a fantastic way to connect with your peers and get insight into what's happening with the platform and how you can use it more efficiently, effectively and to your career advantage. It's free to get started, so what's there to lose?
The Salesforce Ohana is a huge part of working with Salesforce. There are endless places to get support, information and just have plain fun with international and regional events, online podcasts and being part of the Trailhead community.
You do need to be aware that taking Salesforce certifications isn't free, and the costs increase with the level of certification. Entry-level certifications cost around $200 each, and mid-level certifications go up to $400; the most senior-level certifications head into the thousands of dollars.
Some employers offer paying for certifications as a learning and development benefit. When you're applying for roles find out if that's something included in the opportunity.
​
Conclusion​
Whether or not you decide to pursue any Salesforce certifications depends entirely on your own personal career goals. Still, there's no doubt that having them can provide numerous benefits both now and in the future!
Investing time in learning more about the platform will help further your understanding and show potential employers that you take your profession seriously! Taking advantage of everything that becoming certified has to offer could be just what's needed for success in the direction you want to take in your Salesforce career.
​

​